We're showcasing some of the best stores for Kratom in Cleveland, Ohio. Our goal is to make buying Kratom locally at least a little bit easier, by providing a list of the top ten places to buy Kratom from in the region.
Let's begin.
Miracle Kratom is just an excellent shop when it comes to Kratom. This shop is everything you would want from your favorite local Kratom supplier and more. Their store carries some of the highest quality Kratom, and all of it is lab-tested. We also love that the Asian herb is available in all forms, while their selection of Kratom strains is one of the widest around. They own over 30 different Kratom strains, while Yellow Vietnam and White Borneo are some of the best they have. You'll also love the customer service working at Miracle Kratom. They'll always treat you with respect.
Address:
4241 Fulton Rd, Cleveland, OH 44144, United States
Here at Twisted Minds Smoke Shop, they mention how they dedicate the business to the loyal community of Cleveland, Ohio. Their selection of various products is one of the widest in the area, and you can get their items at affordable prices. They sell art pipes, vapes, rare smoking devices, Kratom, CBD products, hookah, tobacco products, and more. People love getting Kratom here because it's very potent and lab-tested. Another great thing about Twisted Minds Smoke Shop is the staff. All employees are accommodating and well-educated, always looking to answer all of your questions.
Address:
2150 Lee Rd, Cleveland Heights, OH 44118, United States
The Glass House owns a huge collection of various smoking, vaping, and herbal products in the city. Their prices are a bit higher than you would want them to be, but you can always expect high-quality products while looking at one of the largest collections in the region. People most usually visit for some of the most beautiful local handmade Ohio glass pieces around. However, you'll also like their Kratom since it's always one hundred percent pure. We appreciate the customer service working inside as they're very knowledgeable. They know everything about their products, while the shop's interior makes the atmosphere quite relaxing.
Address:
4264 Pearl Rd, Cleveland, OH 44109, United States
4. Midnight Smoke Shop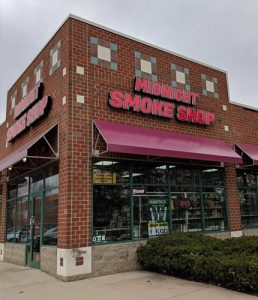 Midnight Smoke Shop has everything required to become your new one-stop for all your herbal, vaping, and smoking needs. They always manage to keep their prices competitive without compromising the products' quality, and you'll love getting Kratom here. They source it straight from Indonesian farms while they also own a pretty decent assortment of Kratom strains. People most usually go for Green Maeng Da and Red Bali, but if you're not sure which one's for you, you can ask the employees and they'll help you out in no time. We also like the space inside the shop as it has a chill vibe to it.
Address:
3712 Pearl Rd, Cleveland, OH 44109, United States
5. High Society Boutique
High Society Boutique is your perfect spot for Kratom in Cleveland, Ohio. The Kratom available inside this smoke shop is just of superb quality and you can get the Asian herb at competitive prices, which is what we all like to hear. Their low prices are actually usually the reason people keep returning here, but they keep the quality of their products quite high as well. They still own a pretty good Kratom strain inventory, and the employees at High Society Boutique will provide the best recommendation just for you. We also appreciate the employees working inside. They'll go out of their way to make your time at the shop more enjoyable.
Address:
11223 Detroit Ave, Cleveland, OH 44102, United States
6. Smoke Oasis
Smoke Oasis might just become your favorite go-to place for everything related to smoking, vaping, and herbal accessories and necessities. Their prices are always very affordable, and people love leaving the store with more items than initially planned. You always know that you're getting good Kratom when buying at Smoke Oasis. All of it is third-party lab-tested and one hundred percent pure, which is pretty much ideal. The store's workers are very knowledgeable and helpful. Each employee will do everything in their power to make you feel more comfortable during your stay at the shop.
Address:
7120 Denison Ave, Cleveland, OH 44102, United States
7. Dad's Smoke Shop
Dad's Smoke Shop is a local family-owned business in Cleveland, Ohio. It's one of the more underrated stores to buy Kratom from in the city since it's not that well-known, but they always provide superb quality. They sell vaporizers, grinders, torchers, water pipes, glass pipes, Kratom, CBD products, and more related items. We like their Kratom strain inventory as they have quite a few different strains, and the employees will help you choose the right one just for you.
Address:
17112 Lorain Ave, Cleveland, OH 44111, United States
8. Smoke World
Smoke World is a store that is smaller when it comes to size compared to some other smoke stores in the region, but their wide selection of products will amaze you as soon as you enter the shop. People like buying Kratom here because it's one hundred percent pure, and you will know it as well as soon as you try the Asian herb out. Kratom inside Smoke World is available in capsule, tablet, powder, or extract form, leaving you with plenty of options. Another thing we appreciate about this smoke shop is the customer service. You can ask the employees anything about their products and they won't hesitate to answer.
Address:
6493 Pearl Rd, Cleveland, OH 44130, United States
9. The Land Smoke Shop
The Land Smoke Shop holds everything necessary to become your new go-to spot for Kratom. You will definitely enjoy this smoke shop as they own a beautifully-organized display room for all your glassware and smoking accessories and necessities. However, this smoke shop also owns some good Kratom. They sell plenty of different strains at The Land Smoke Shop while Yellow Vietnam and Red Bali are some of the best ones they offer. The staff working inside will treat you nicely as well. They know exactly what to do to keep their customers satisfied, and you will appreciate it.
Address:
4308 Ridge Rd, Brooklyn, OH 44144, United States
10. Wax and Beyond
You can never go wrong with Wax and Beyond if you're looking to purchase some of the highest quality Kratom around. The prices they offer are always very reasonable, and they never lower the quality of their products because of it, which is always excellent to hear. Customers like purchasing Kratom here because you always know it's high-in-quality and that they own an extensive assortment of Kratom strains to choose from. Wax and Beyond employees are always looking to help you with everything you might need. They'll do everything in their power to help you make the right choice.
Address:
5100 Pearl Rd, Cleveland, OH 44129, United States
That's all. These were the top spots for Kratom in Cleveland, Ohio. As you can see, there's a large number of excellent stores where you can get Kratom, and you should definitely visit several different ones before picking the perfect one for you. Just so you could get a feel on how things operate at each shop in the city. You should also take a look at some of the other articles we've posted. If you're visiting another city in the United States soon, this could prove to be useful.